Table of Contents
Robbins, George
He developed low-end Amiga systems such as the unreleased A300, which was turned into A600, the A1200 and CD32. He was also responsible for Amiga motherboards including B52's lyrics.
After losing his driver's license, Robbins literally lived at the Commodore West Chester site for more than a year, showering in sinks and sleeping in his offices.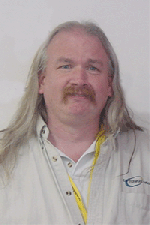 from himself
About George Robbins General I was born long ago and far away in a large town in a small state, notably Wilmington, Delaware. I somehow made it through my teens and eventually graduated from Concord High School. Along the way, I discovered computers and various other vices. Having survived both my 20's and 30-something's, I'm currently about 43, a bit overweight and still have long hair, except where it's getting a kind of thin.
If you think you might know me, it could be from Concord High, the Side Door Coffeehouse, the Deer Park Hotel, one of the Amiga Devloper's Conferences, Dave Haynie's Amiga Death Watch video or maybe a Roller Rink in the Philadelphia area.
Work In general I've survived by doing computer related work of one kind of another - system administration, systems and applications programming, and hardware design. Most recently I worked for Commodore for almost 10 years, involved in the hardware design of the Commodore 900, Amiga 500, Amiga 600, Amiga 1200, and other projects. Mostly I did the system level design work and ASIC's but also served as project manager and harassed the VLSI design group. On occassion I did a fair amount of system administration for Commodore - unix, VMS, Apollo/Mentor and network. I was also the usenet news administrator and postmaster for most of my time with Commodore, from the early days of "what's uucp" to getting Commodore on the internet.
Since Commodore went bankrupt and was bought out by German Company - ESCOM and their subsidiary Amiga Technologies, I've been contracting with Amiga Technologies and their Chinese counterpart Newstar/Rightiming in the areas of engineering assistance, manufacturing support and technology transfer. Amiga Technologies manufactured A1200 systems in France for the European markets and A4000 Tower systems in the US and Germany for both the American and European Markets, before going bankrupt too, and Newstar, later bought out by Rightiming, is targetting Asian markets.
Todesanzeige
George H. Robbins Age 48 of West Chester, PA, formerly of Wilmington, DE, died April 26, 2002. Mr. Robbins was a graduate of Concord High School and worked as a computer programmer. He enjoyed roller-skating and skiing.

Links
de/history/robbins.txt · Last modified: 2018/10/26 05:48 by picard
---